Anybody know of the manga
Uzumaki
by Junji Ito*? I'd been wanting to read it for years, and when I mentioned this on
ontdcreepy
, I was told it could be read online - so of course I sit down and read half the whole thing (me: "egad! manga can be read online for free? what a brave new world we live in!"). It is fucking psycho. It's about this little town that's cursed by... spirals. Spirals, the most "mystical" shape, the most "perfect" shape. Mesmerizing, undying, self-perpetuating... and found everywhere. I'm hard-pressed to classify it beyond "horror," because the real antagonist here is the spiral. It's incredibly graphic and horrifying but also, you know... captivating, as much as I hate to say it. Some chapters (like Jack in the Box) are just damn creepy/horrific/awful/
High Octane Nightmare Fuel
, but others (like Medusa, or even The Snail) have a real aesthetic grace to them.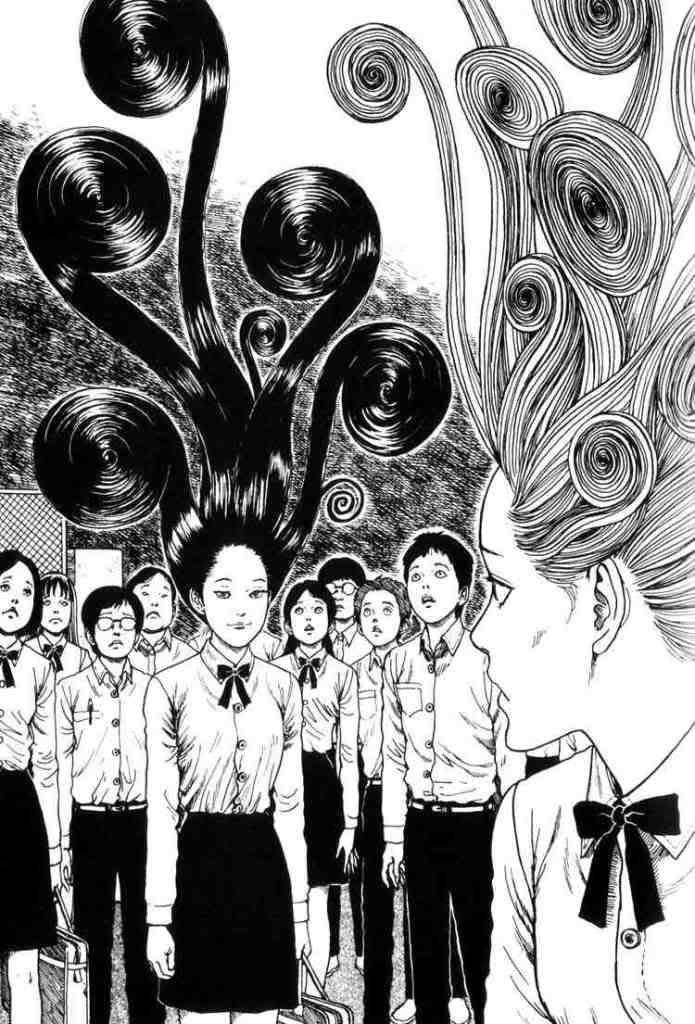 Which makes sense, because the spiral itself isn't some kind of evil entity - it's more of an unknowable entity, with very real ties to the phenomenon of love (Twisted Souls, The Snail, The Scar, Jack in the Box... um... all of them, really). Hence the obsessive behavior of those afflicted (that continues after death), the irresistible draw of the spiral, the self-destruction, the way the spiral twines and intertwines.
Ah, it's great stuff, and I really recommend the series - but be warned there is serious Disturbing Imagery therein, and some of it may hit one of your squick points. I decided to take a break after Chapter 11 (The Umbilical Cord), because that was just viscerally awful, and I had to read like three volumes of Dragonball to get back to my happy place.
D:
* He came up with
Tomie
, you may have heard of her. He also did
Gyo
, which I really want to read too, though I suspect it's like
incredibly
grotesque.